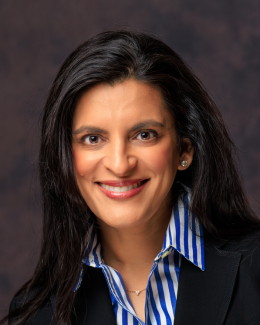 Dr. Avani Ingley grew up in Vidalia, Georgia, and received her undergraduate degree from the University of Georgia.
She graduated summa cum laude from the University of Georgia Honors Program with a degree in microbiology. She completed her medical studies and residency in Otolaryngology at Emory University in Atlanta. While in residency, Dr. Ingley published multiple research articles and presented at the National and International Conferences. Additionally, she was inducted into Alpha Omega Alpha, one of the nation's most prestigious medical honor societies.
Dr. Ingley has experience in all routine ENT procedures with a special interest in pediatric otolaryngology and nasal/sinus surgery. She is certified by the American Board of Otolaryngology and is also a member of the American Academy of Otolaryngology-Head and Neck Surgery. Dr. Ingley is also an active member of the Georgia Society of Otolaryngology-Head and Neck Surgery and the Metro Atlanta Education Society.
In her free time, Dr. Ingley enjoys cooking, traveling, reading, and spending time with her family. Dr. Ingley and her husband have a daughter, a son, and two energetic dogs.
Watch Dr. Ingley's Video Bio here:

Atlanta / Buckhead
Atlanta, GA
2061 Peachtree Rd NW Suite 300
Atlanta, GA 30309
Fax: 404-554-0880
Monday:

8:30am - 5:00pm
Tuesday:

8:30am - 5:00pm
Wednesday:

8:30am - 5:00pm
Thursday:

8:30am - 5:00pm
Friday:

8:30am - 5:00pm

13 Reinhardt College Pkwy
Canton, GA 30114
Fax: 770-345-1385
Monday:

8:30am - 5:00pm
Tuesday:

8:30am - 5:00pm
Wednesday:

8:30am - 5:00pm
Thursday:

8:30am - 5:00pm
Friday:

8:30am - 5:00pm

1121 Johnson Ferry Rd Building 1, Suite 300, Marietta, GA 30068
Tuesday:

8:30am - 5:00pm
Wednesday:

8:30am - 5:00pm
Thursday:

8:30am - 5:00pm
Friday:

8:30am - 5:00pm

80 Lacy Street NW
Marietta, GA 30060
Fax: 678-581-5969
Monday:

8:30am - 5:00pm
Tuesday:

8:30am - 5:00pm
Wednesday:

8:30am - 5:00pm
Thursday:

8:30am - 5:00pm
Friday:

8:30am - 5:00pm