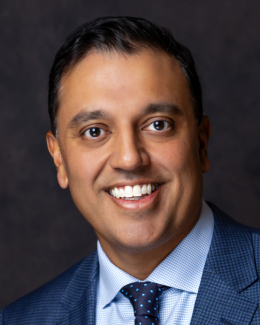 Dr. Shatul Parikh, a native Atlantan, received his undergraduate degree from Emory University and completed his medical studies at the Medical College of Georgia.
Dr. Parikh returned to Emory University to complete his residency in Otolaryngology. He also did further specialized training in minimally invasive thyroid and parathyroid surgery. He is a nationally recognized expert in thyroid and parathyroid surgery.
Dr. Parikh teaches other surgeons advanced techniques in thyroid/parathyroid surgery and has one of the largest volumes of these surgeries performed in the country. He is also experienced in all routine ENT procedures including sinus and nasal surgery. Dr. Parikh is a Diplomate of the American Board of Otolaryngology and is also a member and lecturer of the American Academy of Otolaryngology – Head and Neck Surgery.
He is the medical director of Northwest ENT Surgery Center and Pediatric and Adult Surgery Center of Atlanta, and serves as the Chief Medical Officer for Southern ENT and Allergy (SENTA) Partners.
Watch Dr. Parikh's Video Bio here:

Atlanta / Buckhead
Atlanta, GA
2061 Peachtree Rd NW Suite 300
Atlanta, GA 30309
Fax: 404-554-0880
Monday:

8:30am - 5:00pm
Tuesday:

8:30am - 5:00pm
Wednesday:

8:30am - 5:00pm
Thursday:

8:30am - 5:00pm
Friday:

8:30am - 5:00pm

1121 Johnson Ferry Rd Building 1, Suite 300, Marietta, GA 30068
Tuesday:

8:30am - 5:00pm
Wednesday:

8:30am - 5:00pm
Thursday:

8:30am - 5:00pm
Friday:

8:30am - 5:00pm

80 Lacy Street NW
Marietta, GA 30060
Fax: 678-581-5969
Monday:

8:30am - 5:00pm
Tuesday:

8:30am - 5:00pm
Wednesday:

8:30am - 5:00pm
Thursday:

8:30am - 5:00pm
Friday:

8:30am - 5:00pm