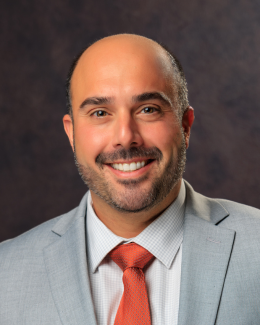 Jeffrey A. D'Ambrosio, PA-C, earned his Bachelor of Health Sciences degree from Philadelphia University.
After graduating with honors, he joined the university's Physician Assistant Program and later received his Master's in Physician Assistant Studies, graduating in the top fifth percentile of his class. Jeff has over 15 years of experience in the field of Otolaryngology. He is also board-certified by the National Commission on Certification of Physician Assistants (NCCPA) and is licensed by the state of Georgia by the Composite State Board of Medical Examiners. He is a member of the American Academy of Physician Assistants, the Georgia Association of Physician Assistants, and the American Academy of Otolaryngology.
Jeff makes it a priority to translate the most advanced medical information into understandable terms for his patients. It is his goal to address all questions and concerns before a patient leaves the office, ensuring they've received the best care possible.

13 Reinhardt College Pkwy
Canton, GA 30114
Fax: 770-345-1385
Monday:

8:30am - 5:00pm
Tuesday:

8:30am - 5:00pm
Wednesday:

8:30am - 5:00pm
Thursday:

8:30am - 5:00pm
Friday:

8:30am - 5:00pm

Cartersville
Cartersville, GA
5357 Highway 20 NE
Cartersville, GA 30121
Fax: 678-605-8601
Monday:

8:30am - 5:00pm
Tuesday:

7:30am - 3:30pm
Thursday:

8:30am - 5:00pm
Friday:

7:30am - 12:00pm