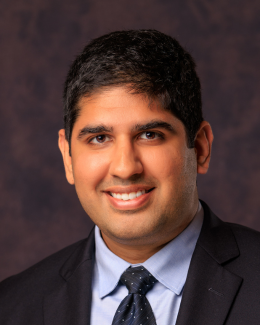 Dr. Hannan Qureshi MD is board-certified in Otolaryngology-Head and Neck Surgery and specializes in advanced endoscopic sinus surgery, skull base surgery, nasal surgery, and allergy.
Dr. Qureshi grew up in Dalton, GA, and received his BA in Economics from Northwestern University, where he was enrolled in the Honors Program in Medical Education. He graduated summa cum laude from the Northwestern University Feinberg School of Medicine and was also inducted into Alpha Omega Alpha, one of the nation's most prestigious medical honor societies. Dr. Qureshi completed his residency in Otolaryngology-Head and Neck Surgery at the University of Washington. During his residency, he completed an NIH-funded research fellowship studying head and neck cancers at the renowned Fred Hutchinson Cancer Research Center in Seattle, WA. Dr. Qureshi has received national awards for his research and has published over two dozen peer-reviewed scientific journal articles, book chapters, and research abstracts. Upon completion of his residency, he received additional formal fellowship training in advanced endoscopic sinus and skull base surgery at Johns Hopkins.
Dr. Qureshi is a member of the American Academy of Otolaryngology-Head and Neck Surgery, American Rhinologic Society, North American Skull Base Society, and American Academy of Otolaryngic Allergy. He is committed to providing his patients with the highest quality, cutting-edge medical and surgical care and treating them with kindness, compassion, and respect.
In his free time, Dr. Qureshi enjoys spending time with his family, traveling, hiking, camping, skiing, and attending sporting events.

Atlanta / Buckhead
Atlanta, GA
2061 Peachtree Rd NW Suite 300
Atlanta, GA 30309
Fax: 404-554-0880
Monday:

8:30am - 5:00pm
Tuesday:

8:30am - 5:00pm
Wednesday:

8:30am - 5:00pm
Thursday:

8:30am - 5:00pm
Friday:

8:30am - 5:00pm

1121 Johnson Ferry Rd Building 1, Suite 300, Marietta, GA 30068
Tuesday:

8:30am - 5:00pm
Wednesday:

8:30am - 5:00pm
Thursday:

8:30am - 5:00pm
Friday:

8:30am - 5:00pm

80 Lacy Street NW
Marietta, GA 30060
Fax: 678-581-5969
Monday:

8:30am - 5:00pm
Tuesday:

8:30am - 5:00pm
Wednesday:

8:30am - 5:00pm
Thursday:

8:30am - 5:00pm
Friday:

8:30am - 5:00pm