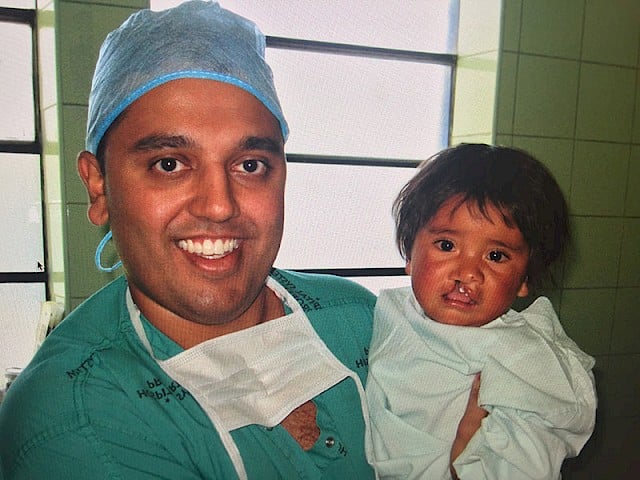 Peruvian Mission to Lend a Hand
Dr. Shatul Parikh, medical director of the Northwest ENT Surgery Center, recently made his sixth medical mission trip- this time to Ayacucho, Peru. Working with other doctors on the mission trip and locals physicians. Dr. Parikh performed cleft lip and cleft palate surgeries on children and thyroid surgeries on adults. Poor nutrition and a lack of dietary options leave Peruvians in this area particularly susceptible to these conditions.
One case stood out: a 12-year-old boy with massive lymph nodes in his neck. A local physician told him that he could not be cured. However, Dr. Parikh said, "I took the patient to the operating room and (afterward) was able to have his tissue brought to the U.S. for testing. It turned out to be a very treatable cancer and PAMS Mission was able to fly him to Lima for treatment."
Dr. Parikh finds medical mission work to be very rewarding, and comes away from the experience feeling that, "we are very lucky in the U.S. with the healthcare and access to resources for both poor and wealthy." Many third-world countries have similar problems, and he encourages other doctors to become involved in medical missions.
Convenient Ultra Sounds and Biopsies
Although a vast majority of thyroid nodules are benign, a small portion of them do contain thyroid cancer. In order to diagnose and treat thyroid cancer at the earliest stage, most thyroid nodules should be evaluated by a specialist.
At the Northwest Thyroid and Parathyroid Center, we can perform a quick ultrasound and biopsy of the thyroid nodules-often on the initial appointment. This allows for expedited results of the biopsy, whether benign or cancerous. Quick and convenient, this procedure is paired with an optional payment arrangement for patients who have a high deductible or simply can't afford on lump-sum payment. IN some instances, we are a more cost-effective option when compared to a hospital or imaging center. For more information, please visit the-thyroid-surgeon.com and thyroid-parathyroid.com.